Few people in the world are instantly recognisable by their first name alone, but Baz Luhrmann is certainly that kind of legend.

In 2001 Baz and his creative (and life) partner, Catherine "CM" Martin, created one of the most revolutionary moments in cinema history — the Australian film Moulin Rouge! In an instant the movie-musical was reborn, as our ears were immersed in a new style of mashing existing songs together to create new gems, whilst our eyes tried to keep up with the now-iconic flicks and zooms of Baz's mind-blowing direction.

Now, over 20 years later, Moulin Rouge! The Musical has come home to play its Australian debut in Melbourne.

"Uncle Baz" and CM have been instrumental guides and supporters of the stage adaptation of their work. On the eve of the production's Broadway debut, Baz penned the letter below for Broadway Direct, as he found himself in the unexpected position of watching his creation come to new life.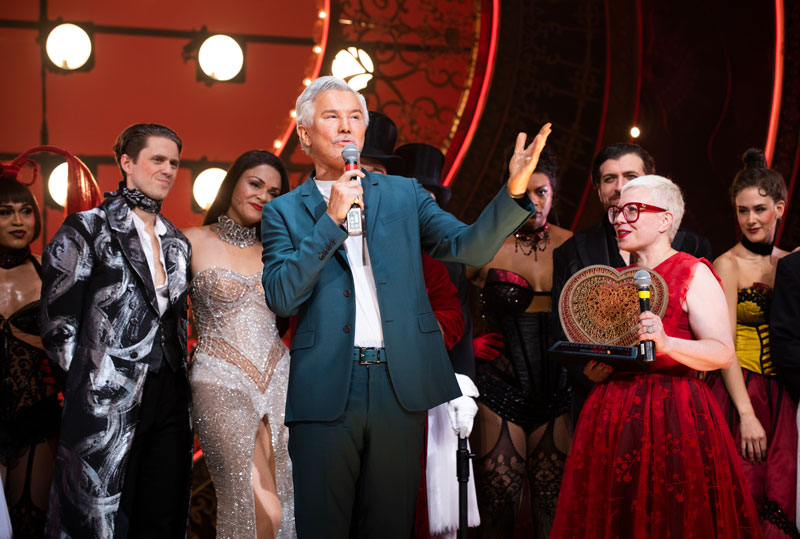 Moulin Rouge! the movie was an attempt to reinvent the movie-musical. It's not a stretch that my desire to do this germinated in the tiny country town where I grew up. There, we had a gas station, a farm, but we also had a local cinema and a small black-and-white television with only one channel, onto which they dumped old movies and musicals. I grew up on these films, and though many of them are now considered classics, at that time in the 1970s, they were sort of disregarded and disrespected. Later, as I grew up in the theater and in film, I studied realism, Brecht and Artaud; I was a great devotee of Coppola, Scorsese, Fellini, and Bergman; but still I never lost my love for the musical form. What I found so interesting was that each epoch or era had its own musical language.
‍
Once I started to make movies, I became obsessed with finding a musical language that could work for now. As someone who had loved musicals from childhood, I wanted to see them live again. So in making Moulin Rouge!, I set out with my collaborators to reinvent an old form. What I found was fundamental to all these films is that they aren't psychological dramas. They're not trying to hide the plot; it's obvious. The art form is how you reveal that plot, heightening emotion through visual language devices and, most of all, the music. Once I started to collaborate with Craig Pearce on the story, we took a primary myth, that of Orpheus, which the audience could instinctively recognize, and set this myth in the 1890s Belle Époque, in the Bohemian environment of Montmartre, a period that reflected our own, full of invention, massive change, and on the eve of a whole new epoch. Throughout the journey, there were moments when people in the industry who I genuinely respect truly believed that the musical could never be popular again. Now it's uplifting that more than 15 years later, the movie-musical is an important part of the cinema-going experience again.
‍
When it came to bringing Moulin Rouge! the movie to the stage, I knew I wasn't the right person to reinterpret something I made years ago. Because, in fact, there's now a whole generation of younger artists who have a purer relationship with the work than I do. I feared I might be inclined to protect every choice that was made in the original work as if it were somehow sacred, but that is the antithesis of art. Any good story needs to be interpreted in different places, in different ways, for different times. Recoded, if you like. So I made the conscious decision to hand the work over and, instead of being the birther, to become something of an uncle to the project.
‍
I saw a show done by the very talented Alex Timbers, and in it, I saw a little bit of influence in the way I was telling stories on film, both ironic and heartfelt, challenging to the audience in its rhythms, outrageous, and yet at the same time, very respectful of we funny old humans. From the get-go, Alex — along with a team that included book writer John Logan, choreographer Sonya Tayeh, set designer Derek McLane, costume designer Catherine Zuber, and a musical crew headed by Justin Levine — wanted to go way, way out on a limb in terms of the interpretation and started to make choices that some people might guess that I, and some fans of the original, would find sacrilegious, adding new songs alongside many of the original hits from the movie, and rearranging plot. In its original, cinematic form, we had been careful to heighten Moulin Rouge! in its plotting and visual language, to give it a theatricality that could counteract the film medium's inherent movement toward realism. Whereas in the theater, of course, it's already theatrical! And so the choice that Alex, John, and the rest of the team made to ground the story more, to perhaps find more psychological depth, was really kind of daring. It made me think back to when I wanted to take a beloved work, something Shakespearean or a classic opera, and make strong choices with it, only to have people rail against what I was trying to do. So all I could do is have faith in these gifted creatives.
‍
It was one of the more thrilling things in my recent experiences to discover that the preposterous conceit of Moulin Rouge! had not only survived, but flourished! Once more, a Bohemian poet made his way to the underworld, and when he opened his mouth to convey his genius through poetry, all manner of popular music poured forth in remixes and mash-ups of songs we all know. This new theatrical production absolutely honors the movie, but finds a new life that is exciting and vital for this audience in this time. What was so uplifting was that in the end, audiences connected with the show in such an electrifying way. I'd never had that experience before. Something that I'd been intimately involved in creating was now living new and fresh without me at the center of its process. I personally can't wait for summer to come, so that I can enjoy the show purely as an audience member, and take all my friends and family along to the Moulin Rouge!
Originally published on Broadway Direct, 9 April 2019